reviews:
My own mini-review:
I never thought people would actually paint on the canvases, I mean it was possible, but I more intended this to be a monochrome show along with the paint, as described in the press release.
I am not sure what was going on, as I was not there, I was in Switzerland where it was midnight and I had my phone switched off.
The Reena gallery also did not know what was going to happen. We had had some discussion before about if we should stop people painting if they wanted to, but this ended with the realisation that we couldn't in the end very easily stop them. Though the paint tubes were sealed, they were within easy reach.
Certainly some people must have come along with the express intention of painting, as it took off pretty fast by all accounts (I have not seen much video apart from one on instagram - just descriptions and a few photos). So after a while there were many people painting, and I get the impression some of them were painters (of which a certain percentage the disgruntled), and others were hipsters/non-painters, cool people or others, of different ages.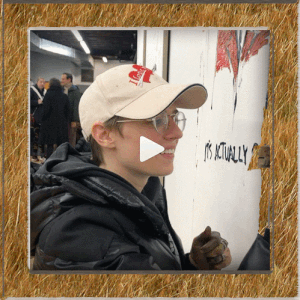 A wild overload started to develop - unexpected. The paint is high quality and it shows. There were slogans all over the paintings, some maybe personal to the writer, some anti-Merlin, but at one stage other political ones such as "Fuck Transphobia".
I do think a lot of people got involved, it was cool. Towards the end someone started re-painting the show to the best of their ability, rubbing out some of the writing and putting on their own slogans. These are partly funny; but also flirting with anti-woke offensiveness, and I don't support that.
But I'm not really the author of any of these daubings anyway. It could have been worse. It was a symptom.
MC, May 2020